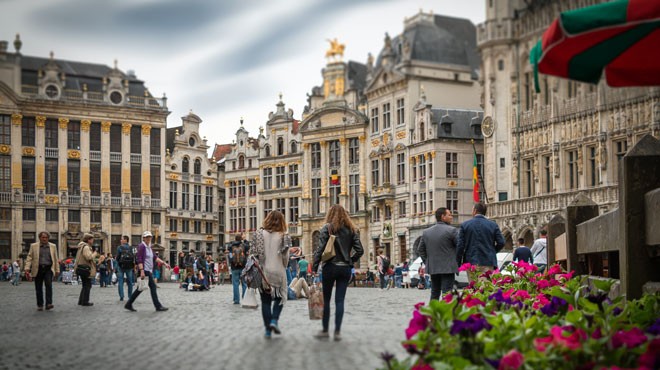 Life is good in Brussels !
Renowed for its chocolate and waffles, its broad choice of beers and its linguistic diversity, Brussels is a multicultural city with a wealth of treasures. All you have to do is find them and most importantly enjoy them : discover our favorite neighborhoods in the capital, where life is good and where expatriates from all over the world cultivate their best memories, to give you the opportunity to make the most of your stay, whether short or long term.
Le Châtelain
Le Châtelain is one of the most popular neighborhoods for expatriates! Located in the commune of Ixelles, this neighborhood has everything it takes to welcome newcomers to Brussels in search of well-being and leisure!
Its trendy restaurants and bars seem to never stop living and are sure to keep your evenings busy.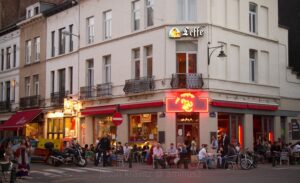 For nature lovers, you can relax in the Bois de la Cambre, far from the noise of the city and traffic. Just a few steps away from Le Châtelain and accessible by public transport, enjoy this broad green space to recharge your batteries.
Here's a little recommendation: let yourself be tempted by the market on Place du Châtelain, where you will find a wide selection of fresh local produce, in a particularly lively and friendly atmosphere.
Saint-Gilles 
On the border with the municipalities of Forest, Ixelles and Brussels, Saint-Gilles is certainly one of the most attractive neighborhoods! You will find art and culture around every corner, with its Art Nouveau and Art Deco buildings that are sure to surprise you.
You will also have the opportunity to relax on a terrace at sunshine with friends at the Parvis de Saint-Gilles. This large square is fulled with numerous coffees, bars and restaurants, in a warm and lively atmosphere.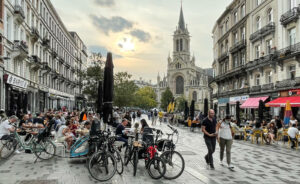 Uccle
Enjoy the countryside in the city ! Located in the southern part of Brussels, and much sought-after by expatriates for its good living, Uccle enjoys a peaceful calm in the heart of the city. Its beautiful houses with impressive front building make your walks way more enjoyable.
Between the Longchamps and Churchill districts, Uccle will surprise you with its varied Art Nouveau and Art Deco architecture. Embark on a treasure hunt to discover the cultural riches it's full of in the district.
In other words, Uccle is the perfect compromise between city and country, for those seeking peace and quiet in Brussels !
European Quarter
Who said the European Quarter was all about institutions and massive buildings? Let us show you the extent of this district and its values, which have already won over many visitor.
Behind the somewhat grayish buildings of the European institutions, you can find plenty of green spaces, such as the Parc Léopold and the famous Parc du Cinquantenaire, erected to celebrate Belgium's 50th birthday! Always lively, you will find runners, families and friends chilling and enjoying delicious waffles from the many foodtrucks around the park!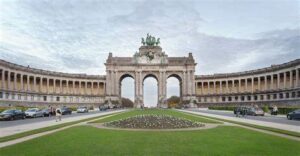 You will also be delighted by the wide range of cultural activities on offer, thanks to the many museums you can visit: the Natural Science Museum, the House of European History, the Parliamentarium and much more so you will never run out of things to see.
Nearby, enjoy the lively Place Jourdan, with its many bars, restaurants and it's famous French fries shop !
Les Marolles
Below Brussels' colossal Palais de Justice, come take a nice walk in the authentic backstreets of the Marolles district. Particularly famous for its flea market, Les Marolles is hidding many secrets you will be thrilled to discover and which make you love it.
Brocantes, thrift stores and antiques shops : Les Marolles is a true landmark of vintage boutiques of all kinds. For second-hand enthusiasts, you're sure to find what you're looking for.
In terms of architecture, the district is a true pioneer of urban art. Don't forget to look up and take in the countless frescoes, graffiti and cartoon walls you'll come across along your way.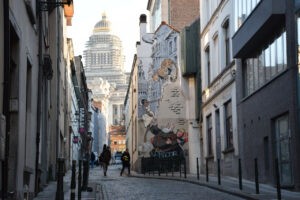 Schaerbeek
Come to the neighborhood where locals and expatriates from all over the world can friendly mix! Schaarbeek, known for its attractive prices and real housing, has an ideal location between the sumptuous park of the Laeken commune and the Saint-Josse district, which is bursting with great restaurants.
Place Plasky, Place Dailly and Place du Chasseur Ardennais are all great places to go out. However, to escape from the lively afternoons and evenings, the district offers you the opportunity to find peace and quiet in one of its many green spaces. Among these, we recommend the huge Parc de Josaphat, steeped in history and culture.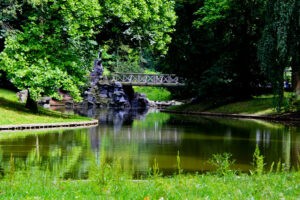 Flagey
Visit the cosmopolitan and festive Flagey district! Located between Matongé and the European districts, Flagey is a cultural hub with a stunning architectural heritage.
Enjoy the sublime views from a pleasant walk along the Ixelles ponds. At the end of your stroll, be sure to stop off at the Abbaye de La Cambre, a historical and architectural jewel whose gardens you're sure to enjoy.
Our best selling point : in Flagey, you will find one of the best French fries shops in Brussels ! To discover all of them, go read the "Best places to eat chips in Brussels" article of Visit Brussels !
Now that you know the best places in the capital,  don't miss our recommendations for September's cultural events in our article "The cultural season in Brussels". See you soon in Brussels!