Writing skills Workshop Classes for adults, in group that occur at noon, afternoon, during the day.
Improve your communication in French and adapt your writing style to any type of support and to any type of recipient with the writing skills workshop!
Adult
Thursday
12.15pm - 1.45pm
On-site / Virtual
From B1 to C1
From 109€
1 month (6 hours)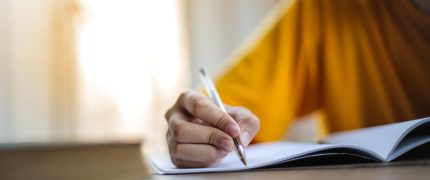 Registration deadline
9/01/2024
Session dates
From Thursday 18th January to Thursday 12th February 2024
Until 07/12/2023, benefit from 2024 courses at 2023 prices!
Practical information
The writting skills workshop allows you to improve your writing in French. By following this practical workshop, you will be able to present your arguments in writing, adapt your writing style to any type of support (letter, formal document, email…) and to any type of recipient.
Teaching content: revision of key skills (vocabulary and grammar) and practice through individual or group written expression activities (communicative action method). You will be able to write e-mails, contribute to a newspaper article, make a public complaint, write a covering letter, etc.
Number of learners: from 6 to 13 participants.
Recommended learning pace: for a complete pedagogical progression, the written French workshop should be followed over 6 months.
Teaching hours: one hour of class time corresponds to 55 minutes of teaching time. One session of writing skills workshop corresponds to 6 hours of class time over 1 month.
Course manual: /
Registration
Get your discount
-5% for jobseekers / students / asylum seekers. Send your proof via our contact form
Other discount: they will be automatically added to your basket, once you have logged in to your account.
For the financing of your course by your employer: us by telling the course, your level and the desired dates. A processing fee of 60€ will apply.
Why learn French with us?
The expertise of French as a Foreign Language
Take advantage of quality teaching, innovative and labelled Alliance Française which allows you to receive teaching from the worldwide network of Alliances Françaises.
Our teaching expertise
Immersive, inclusive and cultural learning of French
A taste for learning French also includes immersion in Belgian, French and wider Francophone cultures.
By joining the Alliance Française Brussels-Europe, you will have privileged access to our digital media library and to a multitude of exclusive cultural events!
Culture
An internationally recognized examination center
Wish to validate your French skills officially? We set up the DELF diploma and the Test de Connaissance en Français (TCF), and value them thanks to official and recognized exams.
Discover the exams'
Modern premises in the heart of Brussels
Our premises are located in the European district in a pleasant, modern, well-equipped classrooms with comfortable furniture. We guarantee that you will learn in the best conditions possible!
Read more'