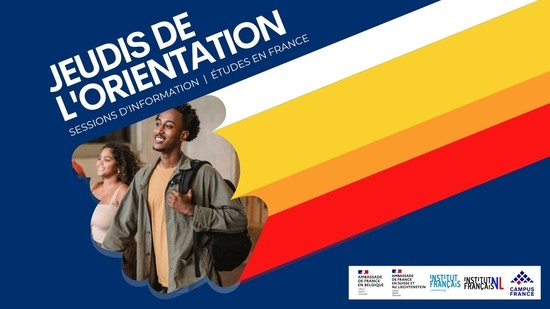 Orientation Thursdays – 4 online information sessions on studying in France
Are you looking for a university education in France? Do you have questions about French higher education institutions, their programmes and application procedures?
In January and February, the French Embassies in Belgium and Switzerland, and the French Institutes in NL and Luxembourg invite you to the "Jeudis de l'orientation".
Thursday 19 January from 5 to 6 pm – Parcoursup procedure
Parcoursup is the platform through which French, Belgian and European students must apply for a first year in higher education in France. On the occasion of the launch of the Parcoursup procedure, we propose an information session for students preparing the secondary school leaving certificate in Belgium, the Netherlands, Luxembourg and Switzerland.
>> REGISTRATION for the "Parcoursup Procedure" seminar on 19 January <<
Thursday 26 January from 5pm to 6pm – Art and architecture courses / CampusArt
During this information session, we propose you to discover the training courses in the fields of art and architecture in France, as well as the CampusArt network.
What is the CampusArt network? CampusArt is a network of French establishments offering training in the field of art and architecture run by Agence Campus France.
The choice of course is accompanied by a fast and interactive online application process, allowing international students to fill out a single application form that can be viewed by over 160 institutions.
The online application session for international students is open on the CampusArt network website until 28 February 2023.
>> REGISTRATION for the "CampusArt Training" seminar on January 26 <<
Thursday, February 2, from 5 to 6 pm – "Taught in English" courses
In France, you can also study in English!
Courses taught in English are increasingly numerous in France and the Campus France agency has created a specific catalogue for courses taught entirely or partially in English, the Taught in English catalogue.
The aim of this information session is to present the opportunities for studying in English – particularly at Master's level – in the various French higher education institutions.
>> REGISTRATION for the "Taught in English" seminar on 2 February <<
Thursday 9 February from 5pm to 6pm – Political Science courses
This information session aims to present the different ways of accessing political science studies in France, as well as the registration procedures. Representatives of institutions (institutes of political studies, preparatory classes for the grandes écoles) will also be present to answer your questions!
>> REGISTRATION for the "Political science training" seminar on 9 February <<