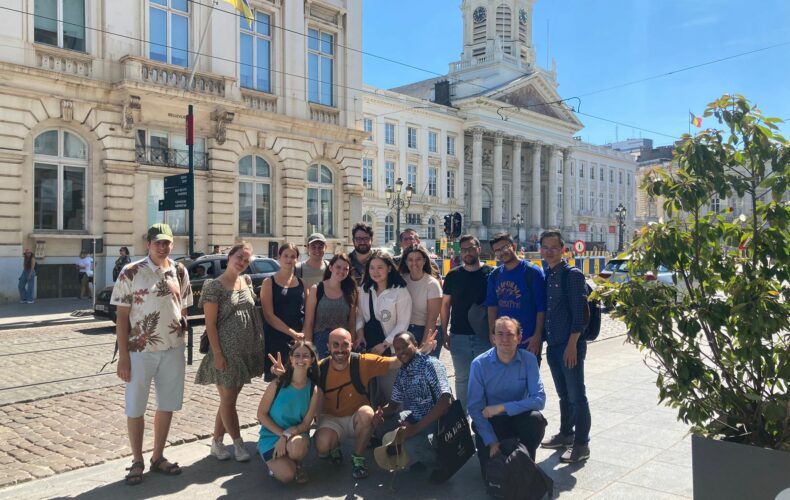 Visit Brussels, your travel guide
Visit Brussels in summer, travel guide
The European capital of beer and relaxation, this multifaceted city is full of cultural and architectural treasures hidden from the general public. Brussels is also home to Chips, chocolate and waffles, specialities that can be enjoyed in the sunshine, "à l'aise" as the locals say.
A mosaic of languages and cultures, a city on a human scale, an island where life is good… All our advice for preparing your language stay in Brussels.
Preparing your summer stay in Brussels
– Brussels is used to welcoming many visitors every year, but it is no exception in terms of accommodation and transport. Here are a few tips and tricks to make your search easier. –
Where to stay?
For the low budget
In youth hostels, for the international and festive aspect.
In a private home.
For higher budgets
How to get around?
By public transport. The capital has a dense public transport network (metro, bus and tram). The STIB is one of the network's operators and offers daily, 5- and 10-trip tickets or monthly passes. It also provides the link from the airport. Note: if you are under 18 and 24 years old and live in Brussels, the STIB offers you a card for €12/year.
By bike or on foot. Living the Brussels way also means adopting the bicycle as your preferred mode of transport! Fast, economical and healthy, getting around by bike allows you to experience the city independently and at your own pace. You can use Villo!, the automated bicycle rental network accessible throughout the city 24/7. And if you're looking for a monthly subscription to own your own bike, take a look at Swapfiets.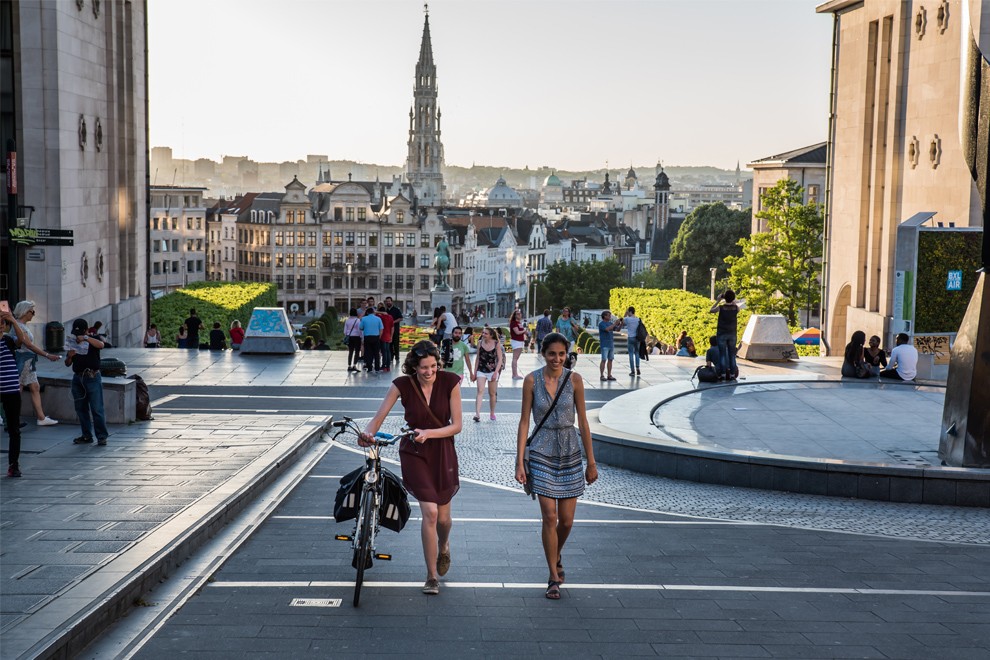 What to put in your suitcase?
The Alliance Française tote-bag: very practical, it is waiting for you at the reception of the Alliance Française Brussels-Europe.
A rain-jacket: because you are never safe from the weather…
A bottle opener: nothing beats a beer or a kamboucha after a French course.
Change: Belgium does not like credit cards and does not use cheques.
What to see? What to do?
Whichever course you choose, you will have free time to visit and discover beautiful Brussels.
VISIT
When you think of Brussels, you think of Art Nouveau, the Grand Place, Manneken Pis and the Atomium. The city is full of architectural treasures and its heritage holds many surprises for visitors! See our cultural selection in our agenda.
CHINER
There is something for all kinds of china lovers, collectors and the curious in Brussels. The Marolles district, with its flea market, antique shops and second-hand stores, is a great place to find nuggets. There are also designer shops and artists' studios.
ENJOY
In the land of beer, it is difficult to ignore this delicious beverage. Pils, amber, blonde, white or brown, there is something for every taste and mood. There are numerous shops and beer bars where you can discover this range of flavours. Among them, L'amère à Boire, Contrebande or the Brussels Beer Project. There is also the very famous Delirium, impasse de la Fidélité, where you can admire the Jeanneke Pis, the female version of the Manneken Pis. A word of advice: never order the same beer!
WALKING
Brussels is also known for the diversity of its green spaces, where you can take a breath of fresh air and enjoy outdoor activities. It is not unusual to see Apéros Urbains, DJ sets or yoga taking place… Check out Facebook for all the upcoming events. The guinguettes are waiting for you.
Discover our summer French courses
As you can see, spending a summer in Brussels is full of all kinds of activities! To make the most of your Brussels experience, come and take French courses at the Alliance Française Brussels-Europe.
Discover our intensive summer course – 3 weeks and enjoy the summer in Brussels while practicing your French. The intensive summer course – 3 weeks allows you to take French lessons in the morning or afternoon to work on the basics, revise or consolidate your knowledge!