Oral French Workshop Classes for adulte, in group that occur during the lunch break.
Strengthen your oral language skills in an interactive workshop tailored to your needs!   
Register now
Adult
Tuesday
12.15pm to 13.45pm
On-site
From A2 to B1
From 109€
1 month (6 hours)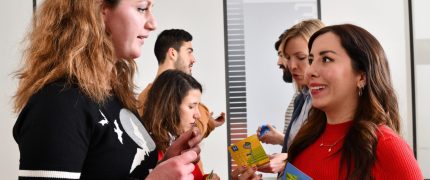 Early-bird discount deadline
04/04/23
Registration deadline
06/04/23
Session dates
From Tuesday 16 May to Tuesday 6 June
Early-bird discount deadline
27/08/23
Registration deadline
29/08/23
Session dates
From Tuesday 5 September to Tuesday 26 September
Early-bird discount deadline
24/09/23
Registration deadline
26/09/23
Session dates
From Tuesday 3 October to Tuesday 24 October
Early-bird discount deadline
22/10/23
Registration deadline
24/10/23
Session dates
From Tuesday 31 October to Tuesday 21 November
Practical information
This course allows you to brush up on your oral skills through revision of key skills and oral practice. The French Speaking Workshop is the perfect complement to a standard course.
Number of participants: from 6 to 13 participants
Course manual: /
Recommended learning pace: for a complete pedagogical progression, the oral French workshop should be followed over 3 months.
Teaching hours: one hour of class time corresponds to 55 minutes of teaching time. One session of conversation workshop corresponds to 6 hours of class time over 1 month.
Learning content: revision of key skills (vocabulary and grammar) and practice through individual or group speaking activities (communicative action method). Please note that this course is not a classic conversation course. You will be able to organise a music festival, create an advertising video, present a press review, debate on a current topic…
Discover our reduction fees program
Loyalty
Benefit automatically from a 5% discount from the second registration!*
Student / Jobseeker
Benefit from a 5% discount on your first registration.*
Discount applied upon presentation of proof at the reception. Cannot be combined with the loyalty discount.
Early bird
Get automatically 15€ discount if you register 7 days before the start of the session!*
Welcome pack
For all new first registrations, receive a welcome kit! To be collected from the Alliance Française Brussels-Europe reception desk.
Payment in three instalments possible*
Payment in three instalments possible with our partner Alma
Your advantages
AFBE learner benefits: an exclusive cultural offer
Culturethèque: your free digital media library
Access to exclusive events with our partners
Cultural outings: learn differently, twice a month
Free cinema tickets in partner cinemas, to be won by competition.
Discover our offer
Registration
Sign up for one of our sessions and start learning French in Brussels!
Before selecting my course, I take a free French level test (30min).

Take the test

Following the result, I select a French course adapted to my level.

I finalise my registration by paying in one or more instalments.
Why learn French with us?
The expertise of French as a Foreign Language
Take advantage of quality teaching, innovative and labelled Alliance Française which allows you to receive teaching from the worldwide network of Alliances Françaises.
Our teaching expertise
Immersive, inclusive and cultural learning of French
A taste for learning French also includes immersion in Belgian, French and wider Francophone cultures.
By joining the Alliance Française Brussels-Europe, you will have privileged access to our digital media library and to a multitude of exclusive cultural events!
Culture
An internationally recognized examination center
Wish to validate your French skills officially? We set up the DELF diploma and the Test de Connaissance en Français (TCF), and value them thanks to official and recognized exams.
Discover the exams'
Modern premises in the heart of Brussels
Our premises are located in the European district in a pleasant, modern, well-equipped classrooms with comfortable furniture. We guarantee that you will learn in the best conditions possible!
Read more'