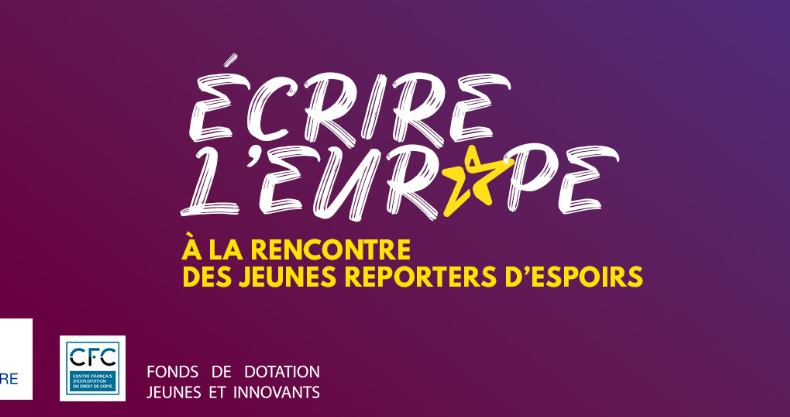 Event
European Young Reporter Award | "Writing Europe"
Practical information
Dates
28 June 2022 from 18:30 to 22:00
Location
Europa Experience
28 place de la Madeleine
75008 , Paris
France
Price
Free
Reservation
In some words...
On Tuesday, June 28, 2022 in Paris, come to meet and exchange with the winners and the members of the jury of the prize during the evening of awarding!
Reporters d'Espoirs organized in 2021 the first edition of the European Young Reporter Award. The aim was to mobilize European youth to highlight solutions while promoting the French language throughout the continent.
In total, more than 150 applications from 17 European countries were submitted.
On the program
6:30 pm ■ Discovering
Opening of the doors & guided tour of the Europa Experience venue
7pm ■ Innovate
How can the media make people want Europe?
Media actors explore new ways to tell the story of Europe.
With :
Elenonore Gay, Journalist, presenter of Nous Les Européens on France TV
Ségolène Allemandou, Editor in chief, ENTR
Yann-Antony Noghes, Director, producer, presenter La faute à l'Europe? on franceinfoTV
7:20 pm ■ Discover
Young reporters of hope, reporters of Europe: discover, meet, exchange with the 2022 winners!
The winners from several countries pitch their reports on the initiatives they covered and interact with you. 4mn to present you their reports, 5mn to ask them your questions!
8pm ■Voyager
Traveling writers tell the story of Europe
Gaspard Koenig, philosopher, writer: 2500km on horseback in the footsteps of Montaigne, from Bordeaux to Rome.
François Reynaert, journalist, writer: Journey on the continent from Charlemagne to our days
Presentation of the European Young Reporter Awards
8:30 pm ■ Cocktail & exchanges