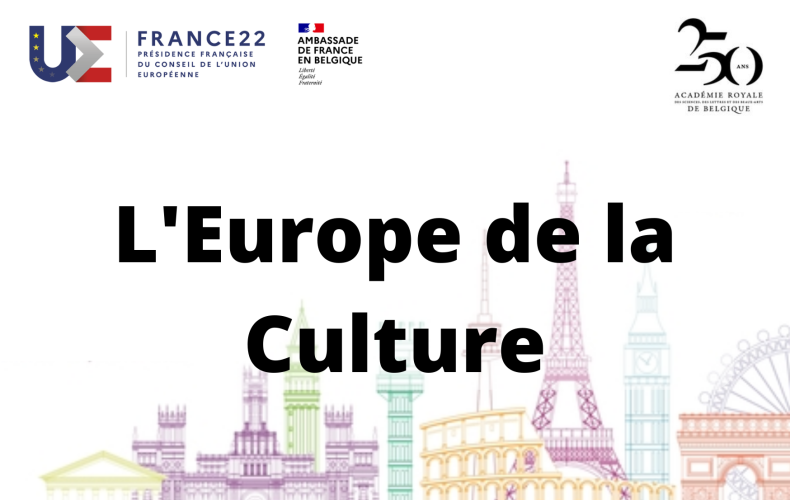 Event
FPEU Conference | "Europe of Culture"
Practical information
Dates
17 January 2022 from 18:30 to 00:00
Location
Online
Price
Free
Reservation
In some words...
Within the framework of the Council of the European Union's French Presidency and the 250th anniversary of the Royal Academy of Belgium, the French Embassy in Belgium and the Royal Academy of Belgium are organizing a series of four conferences on the future of Europe. 
It will address the major European perspectives; imagine the possible futures and concrete opportunities for a Europe of Culture, a Europe of Knowledge; and collectively reflect on the relationship of Europe to the rest of the world, particularly to the Arab world.
The French Embassy in Belgium and the Royal Academy of Belgium are pleased to invite you to the first conference of this cycle, "Europe of Culture", which will be held on 17/01 at 6:30 pm, online.
How to define the European cultural policy for the next decade? How can Europe support cultural production and serve the development of a European cultural space? What is the mission of culture and creators in today's and tomorrow's Europe?
So many questions that will be answered by three high-level speakers:
Laurence des Cars, President and Director of the Louvre Museum,
Peter de Caluwe, General Director of the Théâtre royal de la Monnaie,
Moderated by Françoise Baré, Head of "Culture and Lifestyle" at RTBF.
The conference is free, open to all audiences, and will be accessible upon registration.